..................ya can't get there from here.
View Larger Map
Here we are.... one of the best things about Silver City is the weather.
FOUR GENTLE SEASONS this was the 1st marketing tag line. You can still see it on some old faded signs or promotions that are out of date. We are within 100 miles of the boarder and at about 6000 ft elevation, a very favorable altitude and latitude. We are just about in the ol boot heel.
Silver City is a Great place to visit.
While staying at that Gila House Hotel you will have a great grass roots cultural experience
Read about Gila House Hotel and Silver City in Phoenix Home and Garden
Experience Cliff Dwellings and the Cat walk,
Lots of great hiking.
Great events happening every weekend.
Art, Food, and Music...
Reasons to Visit....
Gila House Hotel & Gallery 400- Conveniently located in the heart of Downtown Silver City, Gila House Hotel is the only lodging facility with off street parking. $85 wk day.... $95 wk end. www.gilahouse.com
Evolution.......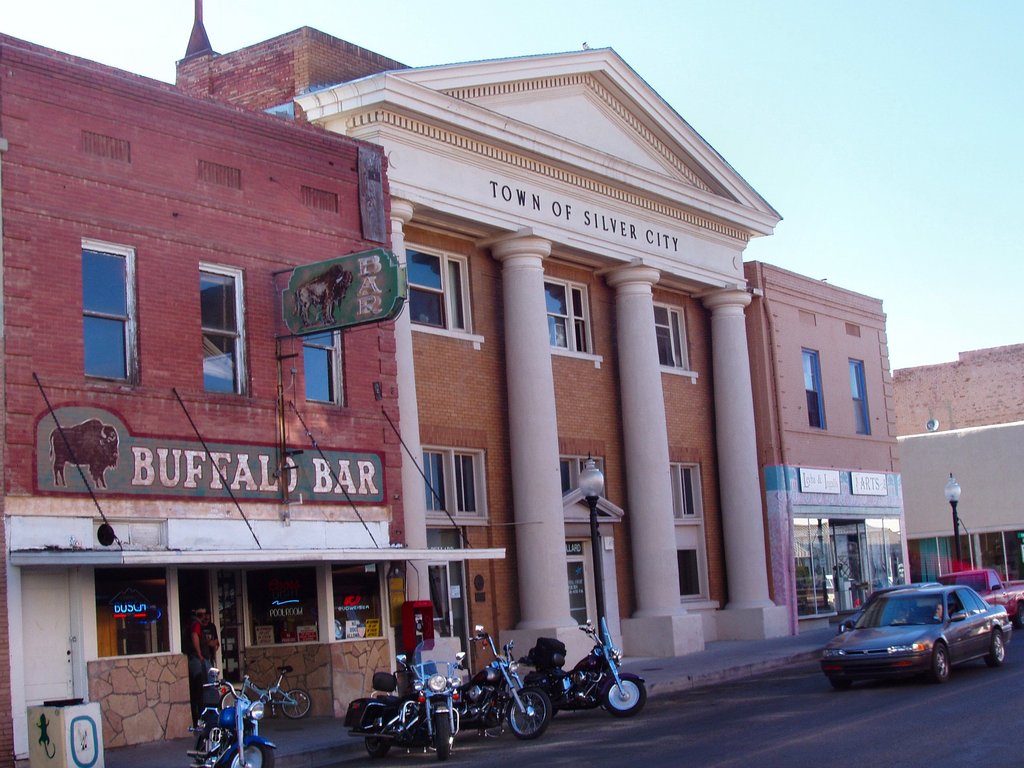 Silver City is in the process of becoming "discovered". gentrification is occurring in the historic downtown district. The downtown is pretty liberal....New business are popping up all over the downtown district. There is no shortage of restaurants, galleries or coffee shops. Things close up pretty early around here, so plan accordingly.
Everybody is an artist.....
....or should be in one way or another! Being creative and expressing oneself is vital to one's peace of mind. The art movement in Silver City was founded by
Harry Benjamin
. We have a great little arts movement, several owner/artist run galleries are scattered around the downtown district, mostly featuring traditional art. The hub of the art district is at the crossroads of Texas and Yankee Street.
Silver City Gallery Association
San Vicente Artists of Silver City
Texas and Yankee Crossroads
View Larger Map
Restaurants.....
We have been so fortunate to have several real good restaurants in our neighborhood.
Dianne's,
I think, has been around the longest. Others have sprung up and are doing quite well!
Silver City food Blogs:
Photo stolen from The Curious Blogquat.
Silver City Events...
The biggest event of the year in Silver City is the "
Silver City Blues Festival
", held every year during memorial day weekend.
Below is a video shot from blues festival 2008
2011 will bring with it the 25th Annual Tour of the Gila. Lance Armstrong rode in the Tour of the Gila in 2009 and 2010. This is my favorite Silver City event. It happens every year about the 1st part of May.
FARMER'S MARKET
April Through October
Farmers Market Schedule
Silver City Farmers Market- Saturdays 8:00-12:00 Downtown North end of Bullard behind Dominos
Bayard Farmers Market. Wendsdays

3 - 6 pm

, Central Ave, across from Bayard Post Office. Local seasonal produce, eggs, herbal remedies and local arts & crafts.

Every Wed

.
Mimbres Valley Farmer's Market,

Thursdays 7/15 - 10/14

.

4:30-6:30 pm

, San Lorenzo Senior Center Parking Lot.
Video recap of local food culture in Silver City.
Farmer's Market.. Downtown Silver City, NM... Shot in the fall of 2009
Last Farmers Market of the year Oct 2010...
Click here for Chamber of Commerce activities page
Click here for Chamber of commerce lodging page